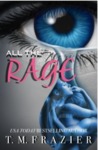 All the Rage
by
T.M. Frazier
My rating:
5 of 5 stars
5 Blow Me Out of the Water Stars!!!
This is by far my favorite book that Ms. Frazier has written. And I say this having read all her other books and thinking that with each book she can't get any better than what she's just written. Well, I'm here to tell you, this book was phenomenal!!!
Rage (Hope) is a young woman that does not have the ability to control her anger and in fact, isn't able to have very many feelings at all….until she meets Nolan. How she comes to meet him is what a lot of this book is focused on, but let's just say, things didn't turn out the way they were supposed to and Rage gets in too deep with him and compromises her job.
These two together are so perfect, if only Rage would allow herself to admit that maybe relying on someone other than herself would be ok. But given her life and what she's experienced so far, it makes perfect sense. The level of detail that is given in this book is great because I can picture every scene, from her riding her Vespa to when she's out in a field aiming for something to when she and Nolan finally come together, in more ways than one!
There are so many moving parts to this book given the number of MC's involved and/or potentially affected by the actions of Rage, Nolan, Joker, Bear, etc. But not once did I have any confusion as to who was who, and what it all meant when stuff went down. Ms. Frazier has the ability while telling a gripping story to bring the reader with her on this journey with the use of her words.
If you're a fan of Ms. Frazier, of the King/Tyrant Series , or MC's in general, you must read this book and when you're finished you'll sit back and ask, what's next?. Because there HAS to be something next within this storyline because I'm not ready to see it end and you won't be either!!
Amazon US
Amazon UK
iBooks
Nook
Kobo