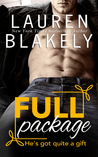 Full Package
by
Lauren Blakely
My rating:
5 of 5 stars
5 Acknowledging That Love Is RIGHT in Front of You Stars!!!
Reviewed by Franci Neill
It's no secret that I've read and LOVED every book that Ms. Blakely has written and I'm very much in love with all the books that have brought us the characters that are the focus of this book, Chase Summers and Josie Hammer (Wyatt's little sister).
I'm not quite sure how she does it, the minute I started reading this book I was hooked from the first few lines. They're witty and sarcastic and all out funny and I was laughing so loud. I especially was happy to see this written from Chase's POV. Just being in his head 24/7 cracked me up. Don't get me wrong, we get Josie's thoughts every few chapters in some very interesting recipes, that I'll for sure be trying out...remember she's the owner of a bakery that has some of the most decadent treats!
Chase and Josie are the best of friends and due to a set of circumstances, they find themselves being roommates! This sets us up for some of the best lines I've read. Chase is constantly having to remind himself that he can compartmentalize his feelings for Josie because he doesn't want to ruin their friendship by lusting after her. However, as we all know, when you have a roommate things tend to get a little lax and you may or may not find yourself seeing your friend in different states of undress which drives Chase crazy especially when Josie announces she's going on a date and he's getting territorial over a girl he hasn't even kissed....
"I'm a lion protecting my pride. This isn't personal."
Chase convinces himself that it's not because he wants Josie to be his, he just wants to make sure she's not with a douchebag!!! These scenes had me rolling! Another thing I adored about this book is that their friendship grew even closer which was evident by some of their conversations most notably about sex and self satisfaction....
"Can we call it your Pleasure Den of Personal Delights? Only if I can call the shower your Whack Zone."
The more I read of this scene the harder I laughed almost to the point of crying! The more our H/h open up to each other more than they ever have, lines are blurred and feelings that are usually repressed start to surface which causes some amazing physical reactions and makes them both happy... although I think Chase was the happiest at certain points...
"I've finally become a stuffed crocodile, and it's better than all my fantasies."
Trust me when you read the book, this will make you laugh out loud!!! The story moves at a pace that is perfect for these two. We get a dose of all our favorite men too, including Wyatt and Max who are there sarcastic selves! Josie is the perfect girl for our guy Chase and even if she says she doesn't want their friendship to end once they "cross the line." Which ultimately can lead to some awkwardness if they're not careful and let this ruin the best friends each of them have ever had!
This book has quickly become one of my favorites from Ms. Blakely and it will definitely be getting read again and again!!!
ARC kindly provided in exchange for an honest review
View all my reviews