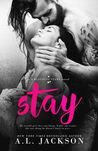 Stay
by
A.L. Jackson
My rating:
5 of 5 stars
5 Captivating, Magnetic Stars
I have no words that can express my love for this book! It has been a little over a week since I read Stay and I still can't put the right words into a review for you....
I have read all but two of A.L. Jackson's books. Arguably this is her best writing thus far. She took me on a journey that had me invested in the outcome of Ash Evans & Willow Langston. When a country girl saves a rock star, magic happens.
"... I find what's broken and put it back together."
~ A.L. Jackson, Stay (Bleeding Stars #5)
If you have read the other books in the Bleeding Stars series, then you are familiar with the setting and the musicians of Sunder. You are also know that they have their getaway in Savannah, GA. Ash Evans, bass player for Sunder, owns a large vacation home there. The only thing that he needs to so is to redecorate his master bedroom. He finds the perfect person to take on that task in a very unconventional way... And no, I am not going to tell you... Needless to say, that person is Willow Langston. The chemistry and connection that these two have is unlike any other that I have read. A.L. Jackson had me crying! My husband looked over at me and thought that there was something wrong. No, no. It was just Amy breaking my heart and putting it back together again!
"Even wild souls need a place to rest."
~ A.L. Jackson, Stay (Bleeding Stars #5)
I feel like I have said all that I can without crying again. The pure magic that happens in this book is beyond words. Oh, and any book that has the man character calling his woman darlin'.... I just melt on the spot. *sighs*
Thank you A.L. Jackson for Ash & Willow's story. These characters were in my life at the perfect time. I have had a very long recovery from having my appendix out. I needed something to take my mind away from everything. This book was simply perfect! Thank you, thank you!!!
#Peaches #Kismet #Sunder #ContemporaryComfort #Darlin
View all my reviews