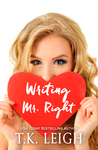 Writing Mr. Right
by
T.K. Leigh
My rating:
5 of 5 stars
5 Hilarious Stars!!!
Reviewed by Franci Neill
I just love when T.k. Leigh steps outside of her dark suspense writing cave and gives us something laugh out loud funny that makes me swoon, snort laugh and gives us the book that just makes everything better!
Writing Mr. Right is this book. Right from the beginning I knew we were in for a great ride. How you ask? Because this book takes place in the book world! Molly is a romance novelist with a pseudonym so only a couple people know what she's writing and she's having a devil of a time writing her new book. So what does any good author do? They research, research and more research...and this is where the antics begin!
Let's just say, she's got her work cut out for her and boy does she have some fun and sexy times while she's doing this research. I can't give too much away, but let me leave you with this.... T.k. has once again given us a book that lets the reader escape from their everyday world and live in the head of a romance author and have a rollicking good time. You'll laugh till you cry and then you'll swoon because if there's one thing we can always count on from this amazing author is a hot, sexy and swoonworthy hero!
View all my reviews